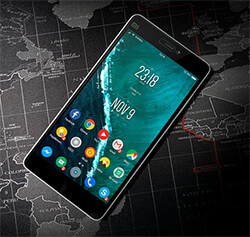 I've known that Androids phones are prone to virus and malware, but I did not know just how easy it was to get infected on those phones since my main phone is an iPhone.
Recently, I needed to check out a site displayed on an Android so purchased an inexpensive model on Amazon. Fired it up, went to Google play and loaded an app which was a browser. Did my testing and then left the phone on.
Exactly 2 days later I get the following confirmed email from Cox which had my ip and the time the network was contacted, which was the time I had the Android phone turned on.
____________________________________________________________________________________
Dear Subscriber,
Cox has identified that one or more of the computers behind your cable modem are likely infected with the Zeus Trojan/bot, also known as Zbot.
While this malicious software is not new, it still poses a great risk to your computer and files that reside on your hard drive.
Zeus malware uses keylogging in order to access user names and passwords and infected over 13 million computers worldwide.
We recommend you take the following action:
1. Visit the Microsoft or Symantec website, download and run the FREE removal tool:
http://www.microsoft.com/security/scanner/
http://www.symantec.com/security_response/writeup.jsp?docid=2014-052915-1402-99
After running the free Microsoft removal tool, if you already have security software installed on your system:
2) Follow your security software's instructions to download the latest updates (also known as "virus definitions")
3) When the new definitions have been loaded, perform a full virus scan on your system.
Cox Security Suite Plus powered by McAfee is included FREE with your Cox High Speed Internet service. This software can be used to help protect up-to 5 devices in your home, including Windows and Mac OS computers, and Android and Apple tablets and smartphones.
To get started, simply browse to www.cox.com/securitysuite and login with your Cox primary User ID and Password.
If you already have an Anti-virus solution installed, you should refer to your software manual before installing the Cox Security Suite.
If you have any questions regarding this matter, please call us at 800-753-6085 and provide the reference number provided in the subject of this email.
If you would like additional information on the Zeus botnet we recommend these articles:
http://www.us-cert.gov/ncas/alerts/TA14-150A
https://www.microsoft.com/security/portal/threat/encyclopedia/entry.aspx?Name=Win32%2fZbot
Regards,
Cox Customer Safety
* Periodically Cox sends emails about changes in our service that affect you. Please note that if you unsubscribe from promotional emails, we will continue to send you important or time sensitive email messages about your service such as this. Cox will never send you an email asking for your personal information, such as passwords.
_________________________________________________________________________________________
I knew it was not coming from any of my PC's since they are over secure with Kaspersky's and Malware Bytes. It was not my PC that was doing it. The only thing that changed was the addition of the Android phone connecting to my router.
So, I attempted to load the Android bitdefender free app to find the virus, but I would not load. Just stalled out. I then factory reset the phone and again loaded the bit defender app and this time it loaded fine so it tells me the first time the virus was preventing it.
I'm a pretty security conscious person so if it was that easy for me to get infected, I can only imagine how many infected Android phones are out there.
It all comes down to Google letting anybody add anything to the play store with no human review where as iPhone apps will get reviewed by a human and looked at for viruses and malware. It is very rare that an iPhone gets a virus from app download form the app store.
This is the reason I'll never use an Android. I was debating about it because I don't like the fact that the new iPhones only have face recognition and really like the thumbprint scanner, but based on this experience, I'll never use and Android phone as my main device because it is just to un-secure of a phone.